The city transport price index
News & Stories | 29.11.2017 | RaceChip
How much does it cost to get around the major cities of the world?
For more information on this data, please find the research, methodology and sources here
When you're in a foreign country, trying to navigate from A to B without getting lost can be overwhelming. Whilst this is part of the excitement of travelling, it is also useful to get clued up on how best to get around when you're in different cities. Tourists who don't understand this can easily make mistakes, get lost or end up being ripped off.
Here at RaceChip, to help travellers out on their journeys, we have researched and compiled a useful transport price analysis for tourists. We compare the price of Uber, taxis and public transport in 37 different major cities.
Interestingly, with Uber under fire in many cities, this research helps to shed light on whether the presence of Uber benefits city dwellers and tourists or not.
So, which mode of transport is the best option for you when you travel these wonderful cities?
How much do taxis cost?
From London's black cabs to NYC's yellow taxis, this mode of transport is undeniably an iconic part of any city's personality. Taxis are a convenient option and easy to pick up on the street side. However, they can be expensive and in some locations taxis are a notorious tourist trap, renowned for setting extortionate prices for unsuspecting travellers.
We've researched the taxi systems in different cities to produce a ranking chart which outlines the cost of a 3-kilometre ride in each location.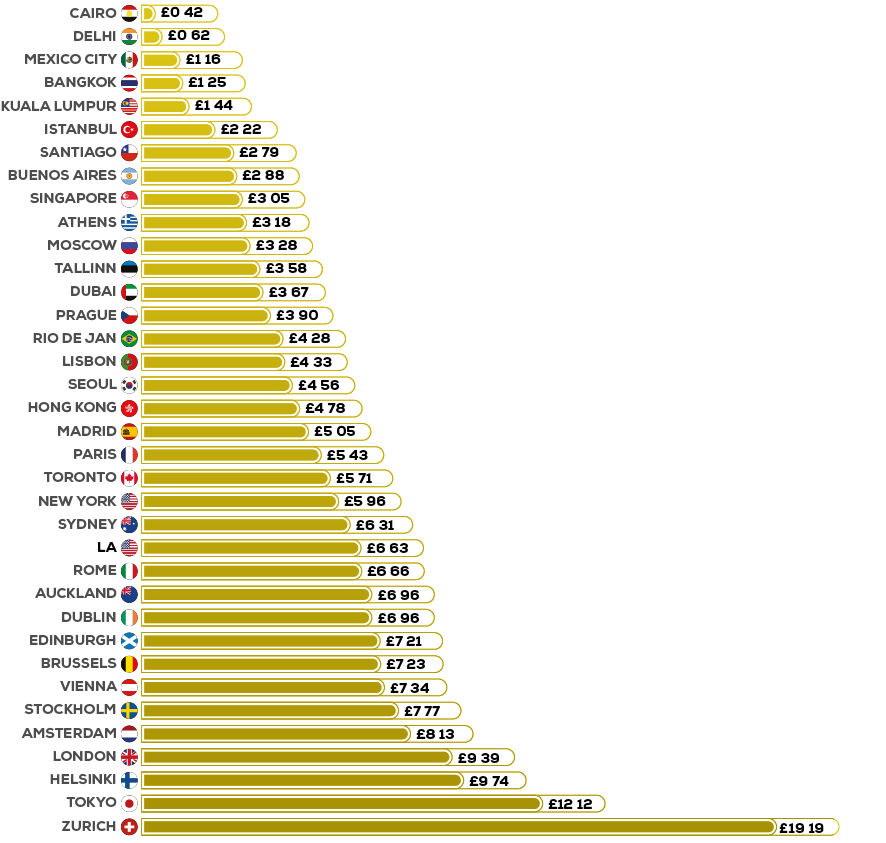 As seen above, Cairo is the cheapest at £0.42 which is 45 times cheaper than the same distance ride in Zurich at £19.19.
One of the most interesting taxi facts that we uncovered is that in Moscow any car on the road is a potential taxi. It is a long-standing tradition that pedestrians can hail any driver that wants to stop and negotiate a price for a lift.
In comparison, how much do Uber rides cost?
Uber is a very big part of life in 2017. Ubering has become a verb, much like Googling, or Photoshopping. In some cities, Uber has completely transformed the way of life.
For example, Los Angeles is an auto-centric city with roads being the primary transportation infrastructure and cars the main transport. Before Uber, Angelenos (L.A inhabitants) would be tied down to their vehicles, unable to drink and easily get around the city for socialising. Uber transformed the night time economy of the city and gave people much more freedom.
However, in other cities, Uber has struggled to establish itself. Traditional taxi drivers are reticent to accept competition from cheaper drivers who are less qualified. Uber has been the subject of protests and legal action from taxi drivers and taxi firms around the world and has been banned in Bulgaria, Denmark, Italy, Hungary and China amongst other places.
The following chart ranks the 37 cities in order of Uber prices for a 3-kilometre journey.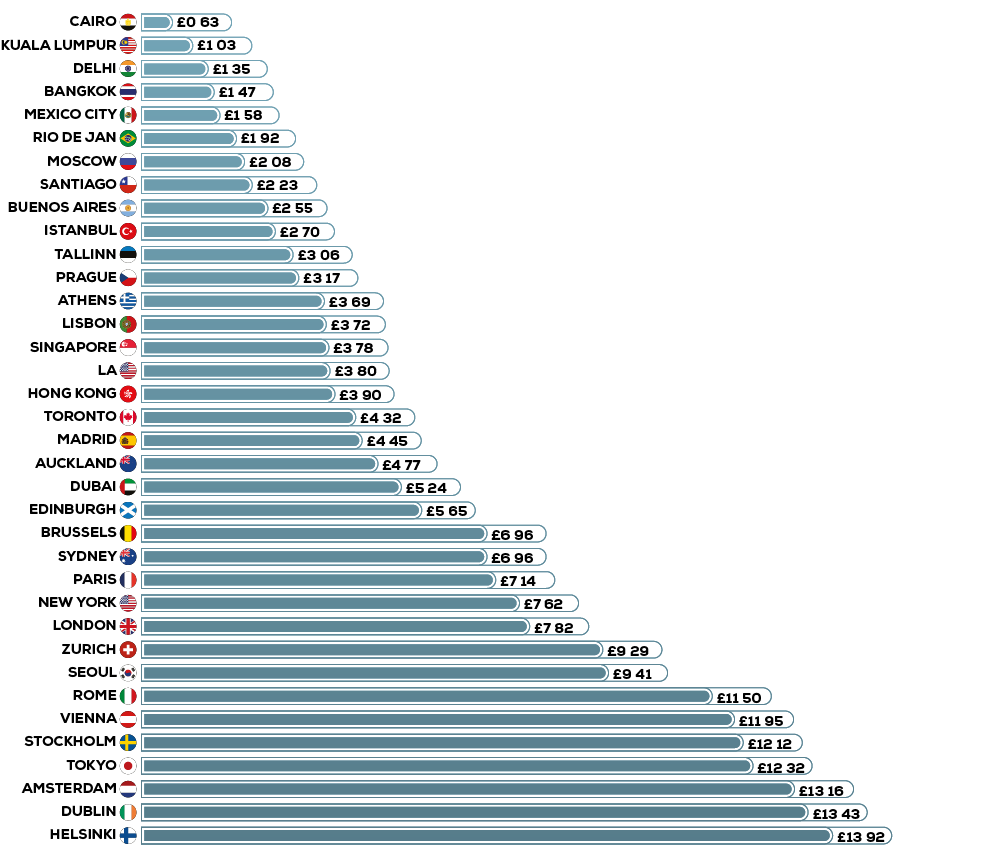 When looking at this data, it is important to note that UberX is not available in all of the cities. UberX is the service which allows drivers to provide lifts in their own cars. However, in some cities UberX has been banned, and Uber only puts passengers in contact with registered taxis or luxury car drivers, this service tends to be more expensive than hailing a roadside ride.
This is the case in Dubai, Dublin, Helsinki, Istanbul, Rome, Seoul and Tokyo.
So, based on this price analysis, where is it best to take an Uber and where is it best to hail a taxi?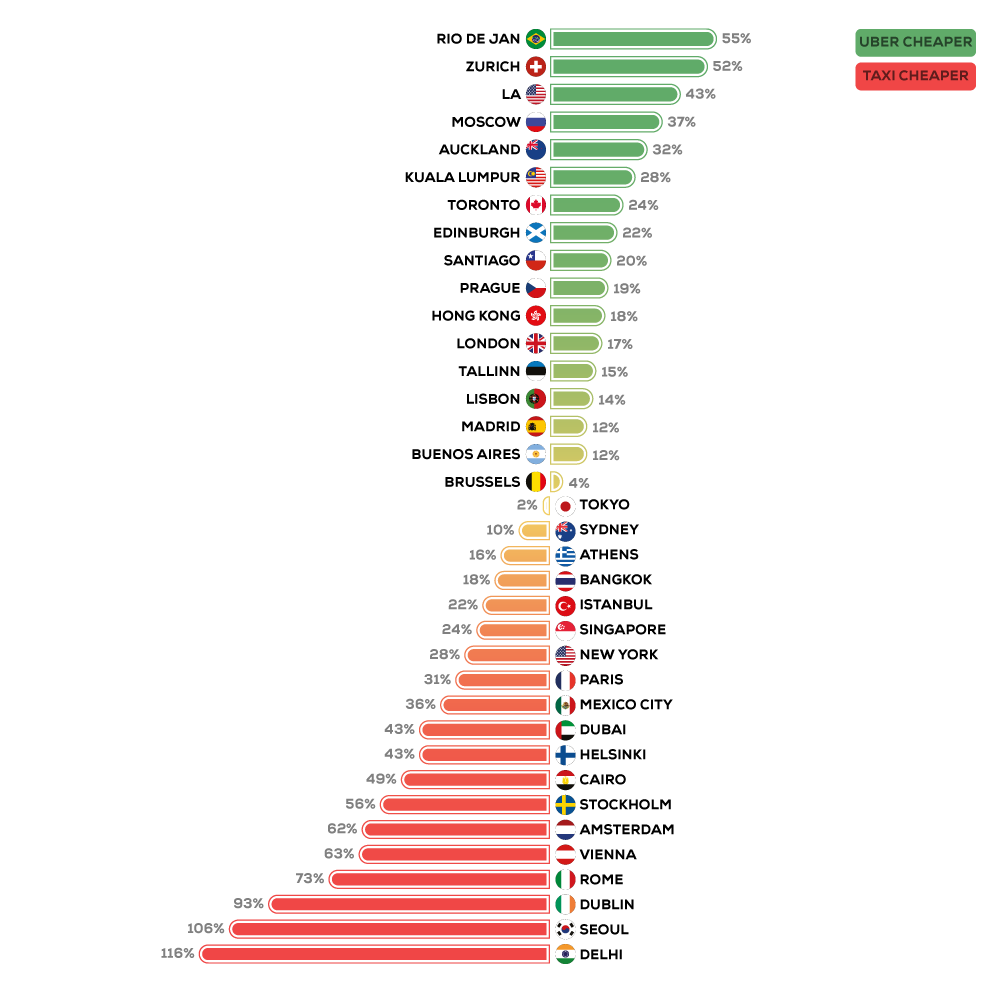 The chart above shows the percentage difference in prices between Ubers and Taxis. In Rio, Ubers are 55% cheaper, whereas in Delhi they are 116% more expensive.
This should give you an indication of which cities you are better off ordering an Uber, and where you are better off to hail a cab.
However, this isn't the end of the story.
Public transport prices
For the adventurous among us, or those on a tight budget, the public transport systems are the cheapest modes of transport.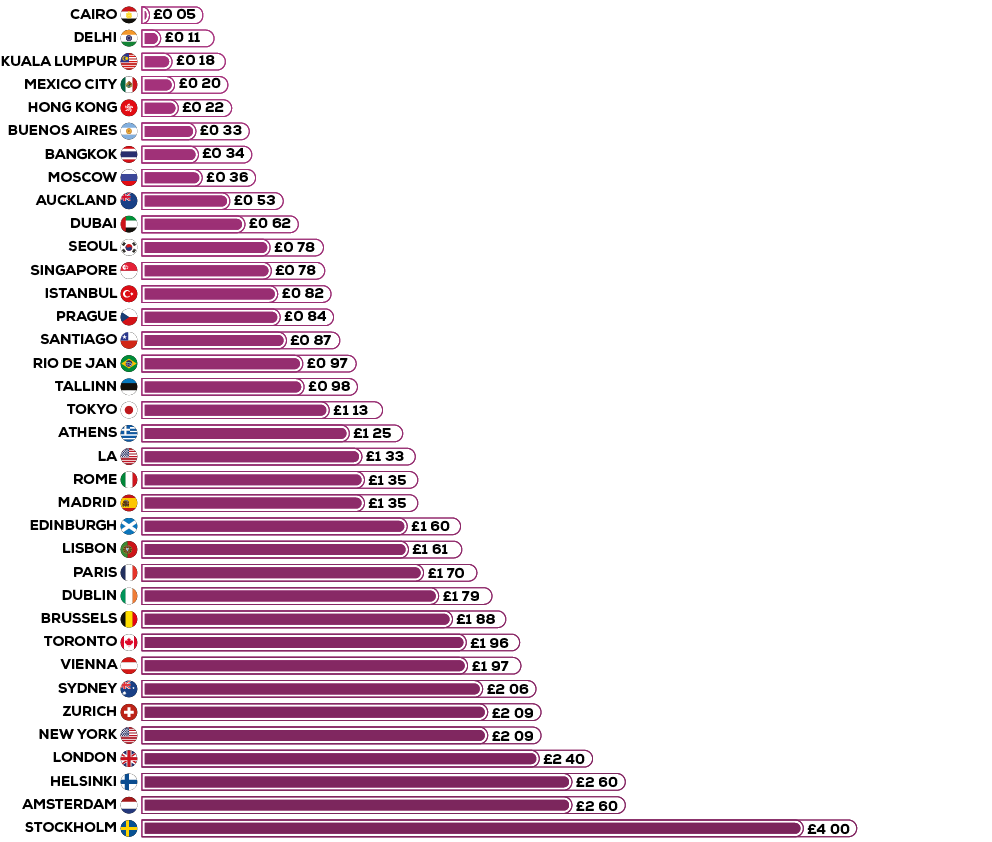 As you can see from the chart, there are very striking disparities in the price of transport tickets.
Stockholm came out highest with single tickets costing £4. London can actually be higher, with walk-up paper tickets on sale at £4.80, however, we chose to use the contactless card payment price of £2.40 as almost everyone chooses to use this method.
In stark comparison, Hong Kong, Mexico City, Kuala Lumpur, Delhi and Cairo all have single tickets available for under 25p.
Cairo isn't in fact the cheapest system we found. Tickets on the Pyongyang metro in North Korea are 5 won (0.4 pence or 0.6 US cents) making it the cheapest metro system in the world. Although tourists in North Korea are unlikely to be allowed to travel around as they please on the metro so this system has been excluded from the list.
One of the most unique systems is in Vienna where all ticket sales are based on trust. There are no ticket barriers and no inspectors. Tourists are advised to respect the system and purchase tickets for all journeys.
Conclusions
Based on this analysis, it is possible to order cities according to the ratio of taxi prices to public transport prices and sort them into the following categories.

We hope that our city transport price index provides useful insights into the cost of getting around in different cities. For more information please read our research or contact r.jones@racechip.com